More advice and ideas in our 'How To...' series on how to decorate Your new home on a budget!
Are you are starting over again and you don't know how to begin decorating your new place? Here are some easy, inexpensive, landlord friendly ideas for making a space your own! Choose a feeling you want in your apartment or rental home.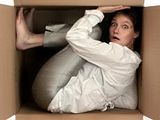 Starting over often means living in smaller spaces than we're used to, choosing a set of feelings as a theme to cover the whole space can both visually enlarge the space, and make the job much less complicated. Want a relaxed, calming atmosphere to unwind in? Choose neutrals or cool colours such as blues and greens. Want to express your colourful personality? Try using bright, energetic colour combinations. If you are in need of furniture, check out classified ads, and even thrift shops to save yourself money.
Keep your choices to simple pieces that will blend with any décor, in the case of a move or a change of taste. You can make a simple platform bed with blocks and ¾ inch plywood or MDF board. Futon mattresses are less expensive then regular mattresses, and can offer good firm support.
Using Colour In Your Interior Designs - Room Decorating and Colour
Choosing colours is one of the most important elements creating a home. Learn how to use colours, select a colour scheme or decorate with colours to influence a feeling in a room. Decorate with colour to liven up your home and live in it with style!
Home decorating projects are enhanced by the proper use of colours.  Here is our 'How To' guide for using colour!
First Things First - Choosing a Colour Scheme
Psychology of colour:
When deciding on colours it's important to know what effect that colour will have on your moods. Loving a colour and living with it are two different things. Learn what your favourite colours can do to you!
Colour Psychology [Read more in The Impact of Paint Colour On Your Living Space: Debbie Zimmer, The Rohm and Haas Paint Quality Institute]
Perhaps many of you are contemplating new decorating and painting projects and perhaps aren't aware of the impact that colour has on our mood. Before you pick up that paintbrush or roller, read through our colour psychology information. It just might help you set the appropriate mood for your indoor space.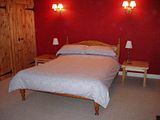 Red packs a wallop, physiologically speaking, increasing blood pressure, heartbeat and energy in most people. It instils feelings of intimacy and passion. Red also increases the appetite, which explains why it is used so often in restaurants, and why it can be a good choice for a formal dining room. The biggest challenge for most people is selecting a colour scheme. Do some reading on how to choose colour using what you already have!
Finding a Colour Scheme
PICK a Pattern: Starting with a pattern is the easiest way to create a colour palette for your decor. Choose a pattern from any object you already have and love such as a pillow, picture or piece of furniture. This will be your colour palette!
Using a Colour Wheel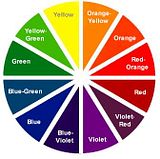 A colour wheel shows the relationship of colours.  There are three primary colours (red, blue, yellow), three secondary colours, which are the result of mixing primary colours (purple, orange, green), and the tertiary colours which are a primary colour mixed with a secondary colour such as red-orange, yellow-green and blue-violet. When they colours are mixed with pure colours white or black it creates numerous different tints and shades.
How Colour Affects Proportion
The best way to describe a proportion is, size. Colour affects a room's visual proportion.  A general guideline is that white or pale colours make objects recede, while dark or bright colours draw things closer which causes them to appear larger.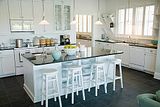 In a rental environment walls are generally painted a white or beige colour.  Most people assume that you are not allowed to paint.  If you are planning to stay over a long period of time you may want to ask your landlord if you can paint under the condition you return it to the original colour.  Most landlords agree to this because it assures them a fresh coat of paint upon your departure. If not you can use other tricks to create your ideal environment.